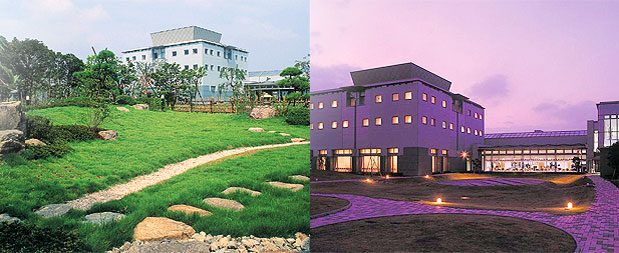 Topics
A hotel surrounded by rich verdure containing a library and a relaxing inner garden
A "workation" hotel in the middle of the metropolis
Also provides weekly and monthly accommodation
Perfect for overnight stays, telework and day use
Local residents are free to use the facilities as a third space.

To ensure that all guests have a safe and pleasant stay at the hotel, we have adopted a thorough series of safety measures involving sterilization within the hotel, in the main lobby and in the guestrooms, droplet-prevention partitions on the reception desk, and making sure that all staff members have their temperatures taken, their physical conditions monitored and that they all wear facemasks, etc.
We respectfully ask all overnight guests to fill in health check-sheets when they arrive at the hotel.
Accommodation will be refused to guests with temperatures of 37.5 degrees Celsius or above, or who have traveled overseas within the past two weeks.
We look forward to your cooperation to ensure that you have a safe and pleasant stay with us.

The restaurant will remain closed for the foreseeable future.

Kawasaki Ouenken (Kawasaki Community Support Coupons) are accepted.
Banquet Rooms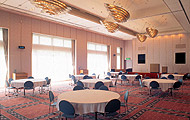 Reception room within the Center
(261 square meters)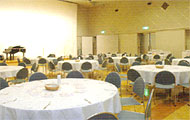 Hall (355 square meters)
Accommodation
Suite Room (48 square meters)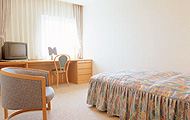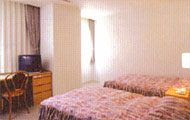 Single Room (spacious 19 spare meters)
Twin Room (27 square meters)
Adjoining Center Facilities:

Carpark, banquet room, international conference rooms,
Meeting rooms, tea house

Guestroom Facilities:

All guestrooms are equipped wireless Wi-Fi Internet connections and LAN connection services
Bath, lavatory, shower, television (regular programming free of charge), refrigerator, water boiling pot, tea set, telephone, desk, heater/air-conditioning

Amenities:

Towel, bath towel, yukata robe, rinse-in-shampoo, hairdryer, toothbrush, razor, slippers, body soap
Shower caps, cotton wipes, cotton swabs, bath salts, hair brushes, bath sponges, etc., are available from the reception desk.
Soleil Restaurant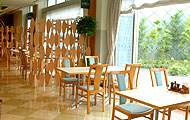 Currently closed, including for breakfast.
Access
By Train
10-minutes' walk from the west exit of Motosumiyoshi Station on the Toyoko Line.
By Car
5-minutes' by taxi from Musashi Kosugi Station on the Toyoko Line and JR Nanbu Line.
5-minutes' drive after turning right at Imai-Kamicho along the Nanbu Line Road after leaving the expressway at the Daisan Keihin Kawasaki interchange.
5-minutes' drive after turning left at Ida Fire Station on the Shitte-Kurokawa Line after leaving the expressway at the Tomei Kawasaki interchange.
Kawasaki International Center Hotel
Kawasaki International Center Hotel
2-2 Kizuki Gioncho, Nakahara-ku, Kawasaki, Kanagawa 211-0033
<TEL> +81-44-455-1109
<FAX> +81-44-455-1619
<E-mail>
info@k-kokusai.com
Check-in: 15:00
Check-out: 11:00
10-minutes' walk from Motosumiyoshi Station on the Toyoko Line
Access
Online Reservation Service
Information on Related Hotels and Facilities


3-minutes' walk from Musashikosugi Station on JR Nanbu Line.
3-10 Kosugimachi, Nakahara-ku, Kawasaki, Kanagawa 211-0063
<TEL>
+81-44-711-8855
<FAX>
+81-44-711-8861

<E-mail>
info@seiyoken.com
Hotel Website